Farne Islands
Weekend TEMPLATE
Saturday 15th/Sunday 16th September 2018
An amazing weekend trip away to dive with the UKs most playful underwater wildlife.
The SEAL COLONY off the Farne Islands is world famous for intimate encounters with these "labradors of the sea".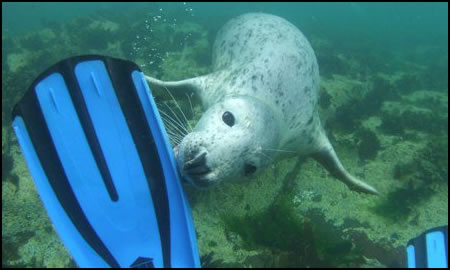 The Farnes. Come with us and get acquainted with the local colony of 4-5 thousand grey seals. Clumsy on land, they demonstrate balletic movements under the water. The younger seals are even more inquisitive than the divers and often come in to take a closer look, holding hands, even nibbling on fins! Making this one of the most entertaining and memorable dive trips you will ever embark upon. Other visual delights include a vast array of anemone, dead mens fingers and many different crustaceans. There are also several relatively unusual species that favour this water - you may come across lumpsucker, Norwegian topknot, yarrels blenny and the spectacular wolf fish & maybe even the huge, deep-water anemone, bolocera.
Our package includes two nights Bed & Breakfast accommodation in Seahouses, two days boat charter, two tanks per person (air refills extra) and weights. All you need to bring is yourself & some dive kit. If you do not have any, no worries, we have a fleet of over thirty hire suits and scuba units to choose from.
Prices from £250.
Travel up on Friday, dive Saturday and Sunday, travel home Sunday.
Why not travel up a day earlier or back a day later, stay and extra night or two (at own expense) and enjoy some of Northumberlands outstanding attractions and countryside.